Get a Better Illumination with the DLED-5200 Series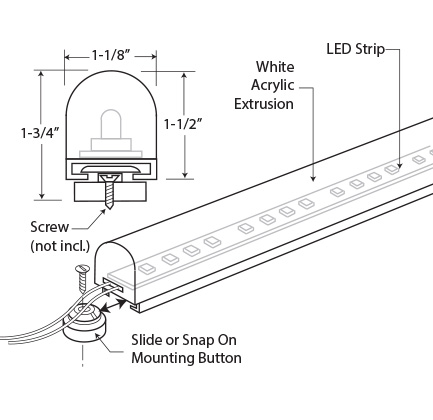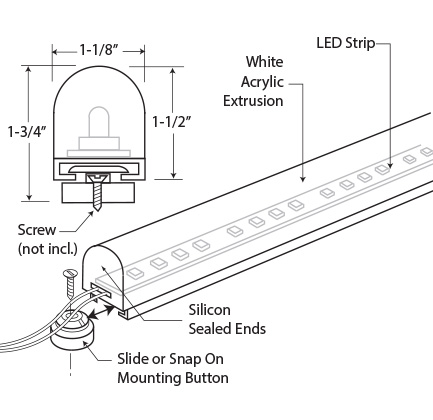 DLED-5200 Series Dimmable LED Light Strip with Sealed Enclosure – Available in Dry location only.
Product Description:
The DLED 5200 is a continuous enclosed LED dimmable light strip that offers a warm, soft, even glow at a huge savings over incandescent, halogen, or fluorescent. Runs cooler than incandescent or halogen, and contains no harmful gasses. 50,000 hour lamp life saves on maintenance and re-lamping costs while enabling unique linear lighting effects and illumination.
LED diodes are wired into a rigid LED strip with jumper wire and feed wire pre-wired and pre-mounted in a sealed white acrylic extrusion that diffuses light into a soft glow. White (WH) or clear (CL) lens available.
24VAC
2.5W per foot
95 umens per foot
Available in 2400K, 2700K, 3000K, 6500K, Blue, Red, Green and Yellow
CRI of 80
Beam spread is 120°
Maximum run is 12' per feed'
Maximum single length is 8'
Mounted with unique slide-in or snap-on buttons
3 year / 35,000 hour warranty
ETL listed
Applicable Dreamscape Power Supplies (click to see power supply products page):
IMPORTANT: LED strips are to be fed from UL Listed Class II magnetic transformers.
Dimmers used must be approved for magnetic loads and use direct current or voltage regulation, such as the Lutron Diva Series. Dimmers that use phase forward dimming technology must have a neutral. Check with factory for compatibility.
Color acrylic available. Contact factory.
NOTE: All LED lengths 99" - 144" are made up of 2 separate units joined together by a 1" flex wire.
DLED-5200 Series Dimmable LED Light Strip with Sealed Enclosure – Dry Location Downloads